© 2007-2018 BY B SHAWN CLARK - ALL RIGHTS RESERVED (AS TO WEBSITE CONTENT & REFERENCED NOVEL)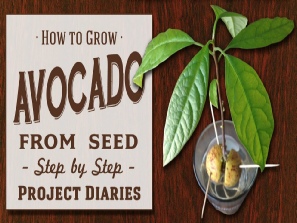 I had started to root an avocado seed, thinking how I could help feed ourselves better. Long-term planning, it would seem. I read somewhere on the internet how you could stick toothpicks in a seed you got from an avocado (after you ate the fruit, of course) and set the bottom half in water.
Sure enough, after a few weeks I had the thing sprouting up. Seeing those leaves sprout like that made me proud and a little excited, I must confess.
I had actually made something grow.
It was like magic in a way.
CAPTAIN'S LOG #4(e) (Supplemental)[Circa March, 2020]
Angela rousted me from the roost, telling me that they wanted me to come back from the future to give a briefing on that time I had sprouted an avocado from a seed. Seems an outfit based in New Zealand was curious about the subject. Their group was very much into what they used to call Do-It-Yourself (DIY) stuff where people would make things or do things on their own without having to go out and pay money for what they needed.
Didn't they have a village where everybody pitched in and traded with someone else for what they lacked?
Seems kind of quaint from my vantage point here in the future. The idea that people would leave the place where they live, go to work at a job somewhere, get paid money, and then turn around and give that money to someone else to grow their food for them seems kinda' silly to us folk living in the future.
Why don't you just skip the middle man and grow your own food?
Anyway, I felt bad for these nice folks. They were growing their own food sort of as a hobby, it sounds like. Little did they know their whole lives would be turned upside down. Mother Nature was already bearing down on them real hard from all directions. Wildfires. Swarms of locus. Violent storms. Tsunami. Earthquakes. Rising seas. Floating garbage floating up and onshore with dead sea life that wasn't quite able to digest plastic too good floating along with it. Then waves of viruses hit 'em, unleashed by poachers who invaded the wild to make a buck trading on wild creatures.
At least these folks have a head start on what needs to be done.